The Energy Saving Trust estimates the savings at about £340 a year (and 1,500kg of carbon monoxide) when changing from an old boiler to an A-rated boiler.
Savings from an energy-efficient boiler
New boilers convert more gas to heat and more of your money goes towards heating your home and water. Boiler ratings explain how much gas is converted:
A – 90% and above
B – 86-90%
C – 82-86%
D – 78-82%
E – 74-78%
F – 70-74%
G – below 70%
An A-rated boiler wastes less than 10% of the energy it uses. But a G-rated boiler can waste more than 30% of the gas you've paid for. This is a loss of £30 for every £100 energy bill you receive.
Find out more in our blog: Everything you need to know about boiler ratings
Home insulation energy savings
Every home loses heat through the walls, floors, and roof. How much heat is lost is dependent on how old and well-maintained the property is. The methods of home insulation that could benefit your home include:
Loft insulation
Cavity wall insulation
Solid wall insulation
External wall insulation
Underfloor insulation
Making the process easy
We've built our business on making heating installs and repairs easy and hassle free. Yorkshire homeowners and landlords have relied on our service for over 30 years. We always ensure that we install the best measures to suit your needs, be this a new boiler or green energy measures.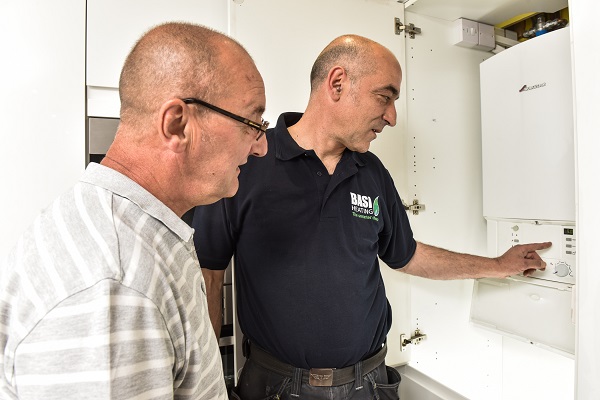 See what our customers say:
"BASI installed a central heating system in my house recently from scratch. I must say the engineers did a brilliant job. They put the radiators where I wanted them and hid all the piping under the floorboards. The boiler was nicely hidden in the cupboard out of sight. I would recommend this company for all your heating needs and I would definitely use them again. Thank you BASI for a brilliant job."
Mr Khan
"Alex and Ethan replaced our knackered old boiler with a shiny new Vaillant condenser. Arrived promptly, polite, and cheerful, and carried out the work in less than 4 hours. Cleared up their mess and unblocked my drain too! Good price and a 10-year warranty. Would definitely recommend."
Tracey Murgatroyd
"I have had lots of work done by BASI over the last 14 years. It's all been done to the most excellent quality; customer services are professional and always happy to assist with any of my enquiries.
I recently had a new boiler fitted and they worked excellently and efficiently.
"They consulted me throughout the work, and I felt so safe and secure. They worked great as a team. Very courteous too. Then the Electrician called Chris came and gave great health and safety advice that I could be in danger if he didn't notice a live wire hanging under the stairs.
"I can call the main office anytime and the best thing is they know me well enough to support my home electrics, plumbing and heating. How amazing is that!"
Angela Singh
If you've got any questions, please don't hesitate to get in touch on 0800 980 6018 or by emailing [email protected].