A boiler breakdown is never convenient, but in the middle of winter, it can feel disastrous. Just when you need your home to be warm and cosy, you're left in the freezing cold. But there are things you can do to prevent this, as well as ways to quickly resolve a boiler breakdown if it does occur.
First things first, here's what to do if you find yourself with a broken boiler…
Boiler not working?
If your central heating or hot water isn't working, there are a few steps that can help you locate the problem. You might find that it reboots and is working fine again.
Boilers can 'lockout' when the power is interrupted, or something goes wrong. If there's a fault with your boiler or the gas supply, there may be an error code that you can look up in the manual or on the manufacturer's website.
Is the pilot light on?
Start by checking if the pilot light is still on – you should be able to see through the front. If it's gone out, that will likely be the issue. At this point, you can relight the pilot light yourself (if you feel comfortable doing this) or get in touch with a gas safe registered engineer to do so.
Pressure too low or high?
The pressure on your boiler should be around the 1.5 mark. Anything below one is considered low pressure, and over 2.5 is too high. If your boiler pressure is too low, you can repressurise it if you feel comfortable doing so. Your boiler manual or the manufacturer's website should provide guidance. Bleeding the radiators may resolve high pressure, but only attempt this if you know how to.
Get more information on boiler pressure here
How to reset your boiler
Resetting your boiler may help if the above steps haven't resolved the problem already. Many models of boiler have a reset button that you simply press and hold for up to 10 seconds. You should hear your boiler firing up again or see the error message disappearing.
If none of these avenues work, it's time to call out an engineer. A local central heating specialist should respond to your call in a matter of hours and come out to diagnose the problem.
Want to know exactly what happens during a boiler repair call-out? Read our blog 'Boiler repairs – Here's how it works' to find out.
Following a short assessment, your engineer will tell you whether…
Your boiler can be fixed there and then
You need a bigger repair or new boiler installing
There's a small chance that your engineer may need to come back to fix your boiler, but as most engineers carry parts with them, this is unlikely. If you need a full replacement, they should be able to fit you in within 24 hours and a new boiler installation is typically complete in less than 48 hours.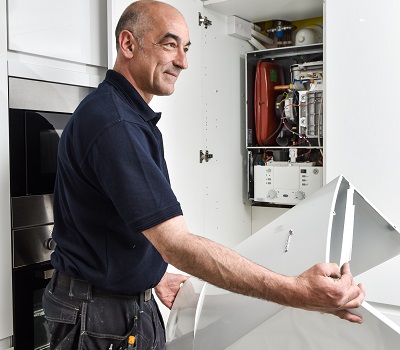 Preventing a boiler breakdown
Keeping your boiler properly maintained prevents breakdowns. And booking an annual service is the best way to do this.
Not only does an annual boiler and central heating service keep your system clean and working efficiently, but it can also flag potential issues before they become full-blown breakdowns.
An annual boiler service…
Catches potential problems before it's too late
Keeps your system clear and working efficiently
Makes sure your boiler is safe
For more details on the benefits of an annual boiler service, read our blog 'Why bother with a boiler service?'
Avoiding unexpected bills with boiler cover
Perhaps the most inconvenient part of a boiler breakdown (aside from the cold!) is the unexpected cost. It's out the blue and often not something you had even considered saving for. Which is exactly why protecting your boiler is such a good idea.
Boiler cover plans start from as little as £15 per month and include repairs and the replacement of your boiler. Some packages also include an annual boiler service, meaning your boiler care is completely taken care of for the whole year.
It's a worthwhile investment that means you won't be left worrying where to find the money if a breakdown does occur. All boilers come to the end of their service life eventually (usually after around 10 years) and knowing you're prepared provides complete peace of mind.
To arrange a service or to get in touch in the event of a breakdown, call one of our friendly team on 0808 159 0738 or email [email protected] for more information.